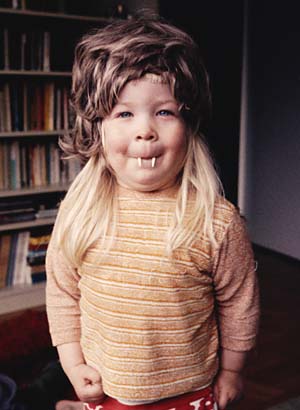 Anna Zastrow was hit smack in the face by the bug (that's the acting bug) the moment she popped out of Momma's belly and has ever since pursued activities in the arts. Her first major dramatic role, after being born, was as a Snow Angel in kindergarten, she then moved on to produce, direct, and perform in her own theaterpiece about an evil queen in third grade, and generally continued being a nuisance to the teachers by her great theatrical antics and ambitions.

Born in Wisconsin, it was not long before she was transplanted to Sweden, and there Anna spent the majority of her formative years among the dark forces of the night-lit North, sharing this fate with the likes of Strindberg, Munck, and Grieg. She eventually escaped to New York.

Anna has called New York City home ever since, except for a few years of self-imposed exile, first to the boondocks of Michigan, and then Paris, where she spent two lunatic years at Ecole Jacques Lecoq: a conservatory for the study of movement, rhythm, and space in the universe of theater. Primarily an actor, she is leaning towards directing and teaching. The training at Lecoq promotes a role as creator in all aspects of theater production: devising, designing, and directing as well as acting. This comprehensive, multi-disciplinary approach to theater is something Anna looks forward to exploring further.

In 2000, she launched the first project of her theater company Loka Maer for the New York International Fringe Festival, an ensemble creation based on Strindberg's A Dream Play. This exciting venture will eventually lead to further challenging productions using ensemble-based physical theater techniques. In the meantime, Anna has been busy as a freelance actor.

Most of all, she's found a true calling in clowning! As her clown character Helda, she has collaborated on three productions with the Brooklyn-based Cirque Boom, performed in various variety venues, and created her full-length one-woman clown show for the 2006 NY Fringe Festival.

Recently, Anna decided to venture out into the world to engage in clowning, cultural exchange, and contribution. In 2008, she spent three months in Thailand and Cambodia bringing clown joy to street children and other youth at risk. Winter of 2010 she clowned around in Indonesia. She then traveled as U.S. Cultural Envoy to Burma (Myanmar). Please e-mail for info.